Tatchu Peninsula
Scale: 1:50000 100 ft contours
CurEd: first ISBN: 978-0-9691550-4-1
Price: $ 14.95 Here is the link to buy this map from the John Baldwin Books and Maps website.
Grid Lines: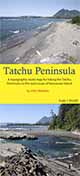 Tatchu Peninsula describes a coastal hiking route along the rugged Tatchu Peninsula on the west coast of Vancouver Island, BC. The route is marked on a 1:50,000 scale topographic map and includes information on distances and hiking times, recommended campsites, tide cutoffs, sources of drinking water and noteworthy features.
Below is a sketch map showing the area covered by this map. A link to this map will appear on all the mountains that fall within the boundaries.
---
---