Lake Louise & Yoho - Waterproof Map and Trail Guide
Scale: 1:50000 25m contours
CurEd: 10th edition ISBN: 978-1-895526-87-5
Price: $ $14.95 Canadian Here is the link to buy this map from the Gem Trek website.
Grid Lines: UTM ZONE 11 NAD 83, 1000 metre grid.
Area Described: Banff National Park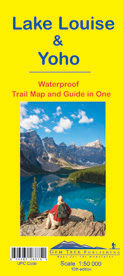 Folded Map. Scale 1:50,000. Contour interval 25 metres. 1000-metre grid. Relief-shaded map on waterproof paper. Full color on both sides. Map shows hiking and biking trails and covers six of the most popular trail networks in the Lake Louise-Yoho area - the Chateau Lake Louise ("teahouse" trails), Moraine Lake (Larch Valley Trail), Skoki Valley, Emerald Lake (Burgess Pass Trail), Yoho Valley (Iceline Trail) and Lake O'Hara. On the back of the map are 1:25,000-scale inset maps of the Chateau Lake Louise area and Lake O'Hara area. Also on the back are photos and descriptions of 28 recommended day hikes and overnight trips, as well as a separate section on arranging a trip to Lake O'Hara.
Below is a sketch map showing the area covered by this map. A link to this map will appear on all the mountains that fall within the boundaries.
---
---