Kananaskis Lakes
Scale: 1:50000 25m contours
CurEd: 6th edition ISBN: 978-1-895526-49-3
Price: $ $13.95 Here is the link to buy this map from the Gem Trek website.
Grid Lines: UTM ZONE 11 NAD 83, 1000 metre grid. Lat/Long marks every 05' in margin.
Area Described: Kananaskis Country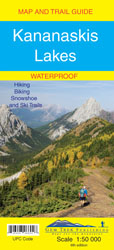 Folded Map. Scale 1:50,000. Contour interval 25 metres. 1000-metre grid. Relief-shaded map on waterproof material. Map shows hiking, biking, cross-country ski and snowshoe trails. Full colour on both sides.
The Kananaskis Lakes map covers Peter Lougheed Provincial Park, located off Highway 40 south of the Kananaskis Valley. The northern extent of the map is Opal Day Use area on Highway 40 and Engadine Lodge on the Smith-Dorrien/Spray Trail. The southern portion of the map covers Elk Lakes Provincial Park, in British Columbia.
Popular hiking trails on the Kananaskis Lakes map include Elbow Lake, Chester Lake, Burstall Pass, Headwall Lakes, Kananaskis Lookout, Upper Kananaskis Lake Circuit, Rawson Lake, Elk Lakes, and Ptarmigan Cirque. For adventurous hikers, the remote southern reaches of Banff National Park near Leman Lake are included, as is the trail over Elk Pass to Elk Lakes Provincial Park.
A 1:25,000-scale inset map on the back highlights the Kananaskis Lakes area, including extra detail of hiking trails and campgrounds.
Below is a sketch map showing the area covered by this map. A link to this map will appear on all the mountains that fall within the boundaries.
---
---