Best of Jasper
Scale: 1:35000 25m contours
CurEd: 5th edition ISBN: 978-1-895526-81-3
Price: $ $9.95 Here is the link to buy this map from the Gem Trek website.
Grid Lines: UTM ZONE 11 NAD 83, 1000 metre grid. Lat/Long marks every minute (01') in margin.
Area Described: Jasper National Park
Folded trail map and guide in one. Scale 1:35,000. Contour interval 25 metres. Relief shaded and printed on waterproof material with full colour on both sides.
Gem Trek's waterproof and tear-resistant Best of Jasper map is primarily designed for visitors who are going to be in Jasper for a short period of time and want to make the most of their stay. The main map is a detailed relief-shaded topographic map of the Jasper area. On the back of the Best of Jasper map are descriptions of recommended sights, museums and scenic drives, with hours of operation and admission fees noted to make it easier to plan your day. We've also included a hand-picked list of the best six easy walks and day hikes in the area, noting the highlights of each trail, as well as distance, elevation gain and directions to the trailhead. Six colour photos and three inset maps, including a town map of Jasper, accompany the descriptions of sights and hikes on the back of the map.
Like all Gem Trek maps, the Best of Jasper map features detailed cartography and accurate hiking trails with distances, elevation gain, and directions to the trailhead noted. On the back of the map are descriptions of the sights, museums and scenic drives near the town of Jasper.
The Best of Jasper map focuses on the town of Jasper in Jasper National Park. It extends from Saturday Night Lake in the west to Maligne Canyon in the east and from Maligne Canyon in the north to the Valley of the Five Lakes in the south.
Jasper is blessed with a network of trails that can be accessed from the town, and we've got them all covered, including to Marjorie and Hibernia Lakes, Cabin Lake, Mina and Riley Lakes, Patricia Lake, and in the vicinity of Pyramid Lake. Further afield, coverage includes trails along Maligne Canyon, to the summit of the Whistlers, to Old Fort Point, and through the Valley of the Five Lakes.
Below is a sketch map showing the area covered by this map. A link to this map will appear on all the mountains that fall within the boundaries.
---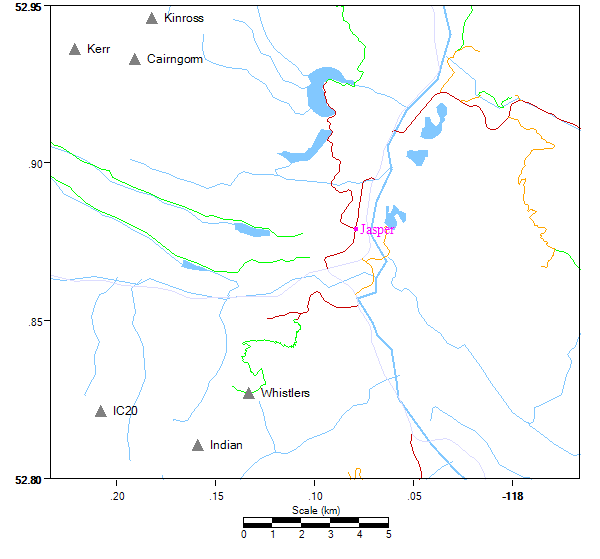 ---