Canadian Rockies (Explorer's Map and Guide)
Scale: 1:400000
CurEd: 11th edition ISBN: 978-1-895526-79-0
Price: $ $9.95 Canadian Here is the link to buy this map from the Gem Trek website.
Grid Lines: Lat/Long marks every 15' in margin.
Area Described: Park Ranges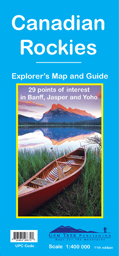 Folded Map printed on paper. Scale 1:400,000. This touring map covers Banff, Jasper Yoho, Kootenay and Glacier national parks. 29 points of interest in the parks are numbered and described. Campgrounds, hot springs, golf courses, ski areas, picnic areas, information centres and highway viewpoints are labelled. A mileage chart gives distances between major towns. On the back are street maps of Banff, Jasper and Lake Louise, as well as a chart showing the amenities at national park campgrounds in Banff, Jasper, Yoho and Kootenay parks. Also on the back are inset maps of Edmonton, Calgary and Western Canada showing major roadways. Complete map and guide for the Canadian Rockies visitor.
Below is a sketch map showing the area covered by this map. A link to this map will appear on all the mountains that fall within the boundaries.
---
---