Bivouac.com Book Page Home Help Index Login
Southern Chilcotin Mountains Guidebook . Lister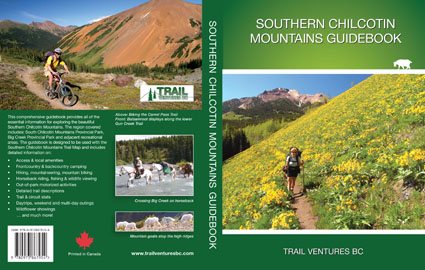 Author(s): Trail Ventures
Edition: First Edition
Publication Year: 2015
Format: Softcover
Publisher: Trail Ventures BC
ISBN: 978-0-9738679-5-4 . 191 pages . Dimensions6" x 8" . List Price: 27.95
Region: BC - Southwest
Book Reviews: 1
Publishers Description: The first-ever guidebook for the Southern Chilcotin Mountains is now available! This guidebook is designed to be used together with our Southern Chilcotin Mountains Trail Map for better navigation through this vast, complex trail system. Covers the South Chilcotin Mountains Prov. Park, Big Ck Prov. Park, Slim/Taylor/Paradise MTAs, adjoining trails outside the park boundaries, and the Mud Lakes area.

This guidebook provides ALL of the essential info needed for day hiking, backpacking, mountaineering, mountain biking and horseback riding. Includes info on access & local amenities, frontcountry & backcountry camping, fishing, wildlife viewing and wildflower showings. Detailed trail descriptions are also provided for turn-by-turn instructions. Trail & circuit stats are given for all trails as well as suggested daytrip, weekend and multi-day outings. And much more!
---
Book Reviews
Review 1 by Robin Tivy on 2017 Oct 30.
The book is designed to be used in conjunction with their maps, which are a separate product. This makes a lot of sense because a map is much better than any book for planning trips. So it's not a book you buy all by itself and read at night. You need a map.
The organization of the book starts with a large two page map on page 49 which divides the area into about 30 creek drainages.
Has good table of contents and index. Photos and maps are black and white.
Sample Use: I looked up the Relay Creek trail, with which I was familiar. I found the "Relay Drainage" on the map on page 49, then I used the index to find description on page 135-138. This included Dash Plateau, which extends east from Dash Hill.
This book would be useful to take with you along with the map, when actually out there. In the city, I found the bivouac website to be a useful thing to use in conjunction with the book. For example, when reading about the Dash Plateau, I quickly got an idea of what area they are talking about by looking at GMap. Looks interesting! They have a black and white picture of the Dash Plateau.
I would have liked the page numbers to be directly on the book map. What I was doing is taking an area on the map, Eg: Paradise, then looking that up in the index (117-123), then going to those pages. index.
In the descriptions, they used codes for all the trail heads. For example, the Paradise section refers to "TH-N", which I guess must be on their map. However I would prefer that these also be defined in each section of the book, with lat-longs. Or have a table of them in the book.
---
---