Bivouac.com Feature Page Home Help Index Login
Gun Creek Rec Site #4973
Type: Camp_Car
Location: 50.89362,-122.77274 50:53:37, -122:46:22 10U 515983 5638019
(40 km NW of Seton Portage). (9 km NW of Mount Truax).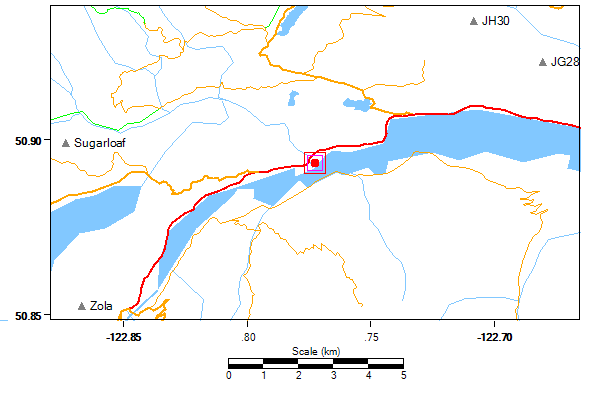 This one is right on Carpenter Lake. This one is mainly a base camp, since swimming and boating not recommended.
Fees: None
16 campsites
Tables
Toilets
Showing bear proof garbage bin, dual outhouses
Bulletins
2020.06.14 Dean Richards - Closed due to Covid19
BC Hydro runs this campsite and there's signs saying it's closed. There are barriers across the road so you can't drive in. We camped down a side road instead. There was a fair amount of traffic down to the flats, lots of ATVs. Someone told us a black bear was in the area. The campground would be pretty nice most of the time and sites are nicely spaced out but most sites didn't seem to have trees in the right spot for hanging a tarp.
2017.07.15 Lucas Earl - Stayed 1 night, some trash around
Stayed here after encountering bears at the Mowson Pond Rec Site. Nice spot, with shade, though a bit windy during our stay. With Carpenter Lake drawn low right now, it was possible to walk around on the flats and get some nice views. We found trash (i.e. uneaten sushi and other plastic) in our fire pit which seemed like a silly decision with garbage provided and the likelihood of bears in the area (saw recent scat out on the flats). Only 3 other parties, visitation may have been suppressed thanks to all the wildfires to the east.
Trip Reports
---