Bivouac.com Feature Page Home Help Index Login
Alouette Cabin #3793
Type: Building_Hut Elevation: 140 m (459 ft)
Location: 49.38859,-122.32175 49:23:19, -122:19:18 10U 549222 5470876
(12 km NW of Davis Lake). (26 km N of Dewdney). (5 km SE of Mount Robie Reid).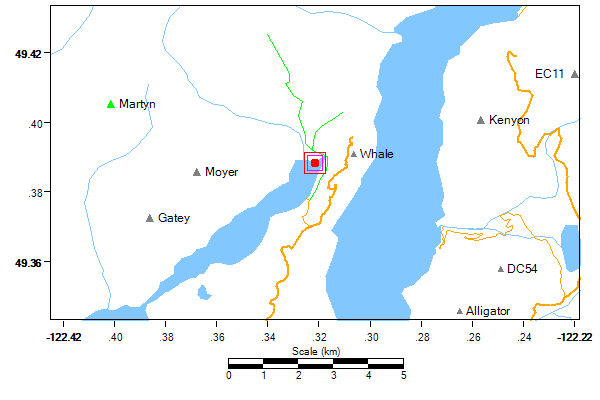 Old rustic low level cabin with stove and new roof. At the head of Alouette Lake about 400 m east of Alouette River. The cabin is rustic although it has a new wood stove and roof. There is a small loft that sleeps three or four. If you land your canoe at the cabin the Robie Reid Trail is about 400 m west. A decent trail leads from the cabin to the main trail. Landing at the cabin lets you avoid crossing Alouette River on the way to Mount Robie Reid.
Access: (1) From Gold Creek in Golden Ears Provincial Park by paddling about 12 km to the head of the lake. (2) From Florence FSR near Km 20, take the gated hydro road to the intake on Alouette Lake. At 165 m ASL branch off onto the Florence-Robie Reid trail to the head of the lake. Bushwhack west near the lakeshore for 400 m to the cabin.
History: Apparently built by the Boulder Correctional Facility and now incorporated into the park. The cabin appears at least 40 years old.
Not useful for alpine ski use.
Alouette Cabin (Wulf Pirang photo)
Bulletins
2019.08.07 Dylan Paterson - New toilet
Parks has replaced the old plywood toilet with a garden throne. Cabin was stocked with emergency firewood. Cabin is known to some boaters as a place to party.
2007.10.15 Paul Kubik - Re-roofed and new stove
Parks did some maintenance on the facility. It has a new roof and new stove and flue.
Trip Reports
55 2015.07.13 Robie Reid via Florence Lake FSR (with route photos) Brett Logan
54 1999.09.01 Robie Reid - Southeast Ridge Route Fred Touche
---