Bivouac.com Feature Page Home Help Index Login
Tenquille Lake Cabin #140
Type: Building_Hut Elevation: 1675 m (5495 ft)
Location: 50.53648,-122.92970 50:32:11, -122:55:47 10U 504982 5598284
(1 km W of Tenquille Lake). (26 km N of Pemberton). (2 km SE of Goat Peak).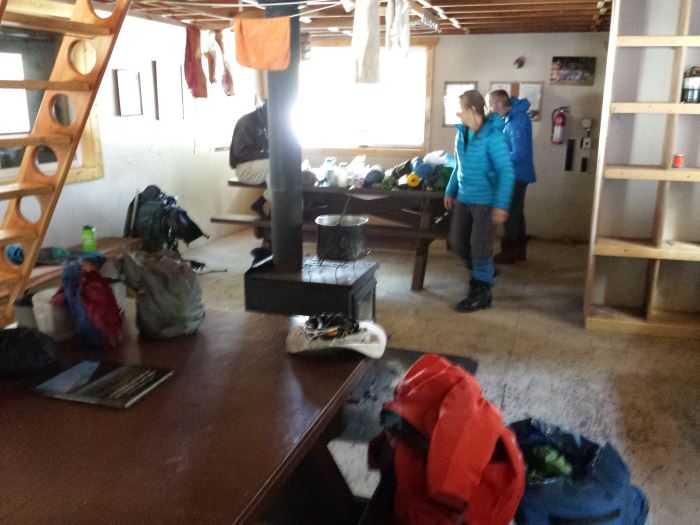 Main Floor New Cabin

New cabin in trees at west end of Tenquille Lake. Wood stove, sleeps up to 20. The old hut was replaced in 2011 with a new hut built with support from various community groups, including the Pemberton Wildlife Association. There is a wood burning stove. Can be accessed via three different routes from Hurley River road, From Tenquille Creek or "Direct" from Lillooet River. $10 donation per person per night requested, collection box inside hut.

There are about 10 foamies, large amounts of plates, cutlery, mugs, pots, pans, utensils etc. Sink and slop bucket. Solar powered lights. Coleman stoves that use the small green propane tanks.

Two outhouses, roof of one damaged by 2017 snow load.
Sleeping loft in new cabin
Old Cabin in September 2006
Bulletins
2019.05.14 Robin Tivy - Tenquille Cabin Photos
Location verified 50.53648,-122.92970. We found the new Tenquille Lake cabin, constructed in 2011. There was a very fancy ladder/stairway leading up to loft and about 10 good foamies upstairs. Downstairs there was a two burner propane stove. Two very nice large tables. The cabin was fairly clean. There were mice rattling the chimney at night, and one or two hopped over people, so hang up your food! Outhouse: The outhouse was functional. Down the hole is a conveyer belt such that when you flush it, the conveyer moves the turds horizontally, thus separating them from the water which runs off. It's the latest thing. There was a solar panel on the western end, and inside a couple of LED lights which operate on a timer. The windows are mostly covered in winter, to strengthen against snow, with only a smaller rectangle in center. But still bright. Lots of snowmobile tracks. I imagine it is often used by snowmobiles in winter. A book inside gives the history of the cabin. See Trip Report
2012.02.01 Tim Gage - More info on this Hut
This hut is maintained by the Pemberton Wildlife Association. For more info, go here: http://www.pembertonwildlifeassociation.com/news/2011/8/31/tenquille-lake-cabin-rules/
2012.01.23 Tim Gage - Hiked up to new cabin with snowshoes
We hiked up to the cabin with snowshoes from the bridge over the Lillooet River. The new hut is great, with a nice wood burning stove. However no firewood is provided. Furthermore the stove pipe is way to short because it was completely covered by snow and therefore blocked. There was only about three or four feet of snow on the roof so this is a major design oversight. We could not figure out how to get on the roof to clear it, so it was a cold night. See Trip Report
2011.08.06 Benoit Landry - New cabin being built
On the week-end of August 6-7 we enjoyed the sound of a helicopter coming in 23 times to drop materials, as well as a lot of hammering. A crew of some 20 people worked all day from 8am until 7:30pm then all day sunday to erect the structure of the new cabin, built on the site of the (dismantled) old cabin. A large work party will be there on the week-end of August 13-14 so if you want peace and quiet.. stay away! Otherwise for info regarding volunteering or donations: http://www.facebook.com/pages/Tenquille-Lake-Cabin/139756616035967
Trip Reports
65 2019.05.04 Tenquille-Owl Ski Traverse Robin Tivy
23 2015.07.27 Traverse from Tenquille Lake to Snout Peak Evan Guilbault
50 2012.11.07 Tenquille Lake and Mountain - Snowshoeing Dominique Goineau
37 2012.01.14 New Tenquille Lake Hut via South Tenquille Trail Tim Gage
47 2010.07.31 Tenquille to Owl ("Ronayne") Traverse Johnny Mikes
68 2009.05.20 The Broken Ski Tour: Railroad Pass to Tenquille Lake Sandra McGuinness
55 2009.05.20 Goat -Tenquille Circumnavigation on Skis Robin Tivy
57 2007.08.05 The Ronayne "Trail" Traverse - And a Few Mistakes Dennis Brown
46 2004.07.30 Tenquille Lake, Fossil pass, down to Tenas Creek Chris Begley
44 2001.02.17 Bralorne-Tenquille Ski Traverse Fred Touche
---