Bivouac.com Feature Page Home Help Index Login
Brew Hut #114 (Brew Cabin)
Type: Building_Hut Elevation: 1686 m (5531 ft)
Location: 50.04003,-123.19108 50:02:24, -123:11:28 10U 486317 5543099
(16 km SW of Rainbow Lake). (18 km SW of Whistler).
Ranges: North America Ranges / Pacific Cordillera Range / Coast Mountains / Pacific Ranges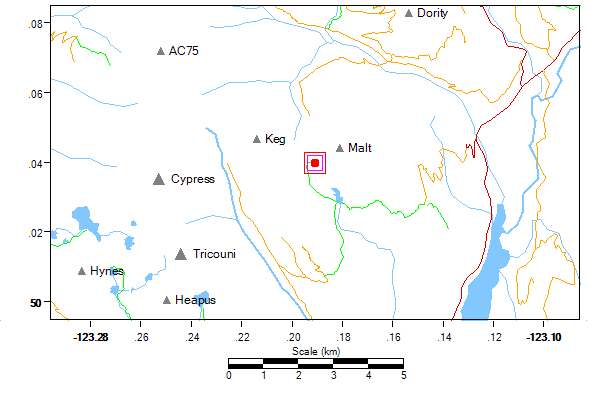 Club maintained mountain hut. Stove, sleeps 12. $10/night Located between Vancouver and Whistler, 5 km from Highway 99 (Whistler Highway). Run by the Varsity Outdoor Club. Outhouse. Sleeps 12 in relative comfort, or 15 in a bit of a squeeze. There is a wood stove for winter use, however wood supplies are very limited. All wood is hiked up to the hut. With this in mind, please be conservative with wood as the supply must last for several seasons. Please do not use the wood stove in the spring, summer or fall. In the winter, only use wood within the Hut or wood within the wood shed.
The hut is open to all and there is no reservation system, however, an the VOC wiki site is used to coordinate use: VOC Hut Reservation Page. The VOC encourages everyone intending on using the hut to register. The VOC asks users for $10/person/night to help with maintenance efforts. Donations can be sent to the Varsity Outdoor Club, Room 3500 6133 University Blvd, Vancouver, B.C. V6T 1Z1 or deposited in the donation box at the hut. Please report problems to the above address or info@ubc-voc.com.
Web Links: VOC Wiki Brew Hut Page
Access: These days 2015, the normal access both summer and winter is from Roe Creek Branch R200 and Roe-Brew Trail. In ideal conditions, winter access takes 4 hours one way. Winter trail is 990m to 1686m, an elevation gain of about 700m. In 2014 Branch R200 was extended, and the new clearcuts wiped out the old start of the trail. The trail itself now starts at 1100m, so to get to the hut at 1660m is 560m elevation gain.
An alternate access is from the east, via the Brew Creek FSR to 714m, and then the Brandwine-Brew Trail. This trail interects the other trail at Brew lake 1420m, then you continue on the normal route to the cabin at 1660m. So the overall elevation gain on this route is 956m of hiking.
History: In 2005, a new Brew Hut has been constructed, which is referred to as Brew #3. There have been two previous Brew Huts, all built by the Varsity Outdoor Club, and each in a slightly different location. Brew 1 was built in 1982 at the outlet of a small lake. As it was at the bottom of a steep hill, it was naturally destroyed by snow creep in the first year. It was taken apart and the pieces helicoptered to a new location on top of the ridge. This became Brew 2. Some of the beams from the original hut were broken, so Brew 2 was built shorter than Brew 1 so the broken materials could be discarded. The location for Brew 2 was somewhat better - on a flat ridge unaffected by snow creep but in the lee of a group of trees that act as a snow fence. As a result, Brew 2 was often completely buried by snow in heavy winters, and the snow around the hut was often the last in the area to melt. In the winter of 1998-1999, a particularly heavy snow year, one side of the hut was crushed by snow, shattering several of the structural arches. The height of snow at the hut was estimated to be 8 or 10 feet over the top of the roof. After several winters of snow depth study, in 2005, Brew #3 was constructed at a slightly different location where wind keeps the snow accumulation down. See table below.
Summary of past and present locations for the hut:

             Lat-Long          UTM                  UTM       Height
              WGS 84           WGS 84               NAD 27        
-------------------------------------------------------------------
   Brew #1  50:02.4-123:10.8   486190 5542429    486284 5542226   
   Brew #2  50:02.3-123:11.1   486690 5542951    486784-5542749
   Brew #3  50:02:24-123:11:28 486309 5543102    486404-5542900 1686m

Brew Hut #3 - Built in 2005
Trip Reports within 1 km
38 2018.06.16 Taking the Ridge to Hops Peak Martin Ortmayr
50 2015.11.15 Brew Hut Early Season Ski Trip (and Hops Peak) Robin Tivy
48 2015.01.31 Brew Cabin Ski Trip Robin Tivy
50 2014.08.23 Brew Cabin Hike By New Roads and Rerouted Trail Robin Tivy
33 2012.05.16 Brew Hut to Callaghan Ski Traverse Cameron Fraser
48 2011.04.04 Mount Brew Ski from RV Campground (Highway 99) Robin Tivy
22 2005.11.26 Waypoints for Brew Hut Trail Rick Raymond
43 2005.11.26 Brew Hut - Ski Trip via VOC trail Robin Tivy
52 2005.05.13 The Brew - Cypress Traverse Klaus Haring
26 1998.04.01 Brew Cabin Ski Trip Steve Grant
12 null Cypress - Northern Approach from Brew Area Route Drew Brayshaw
Bulletins
2018.11.04 Robin Tivy - Hut in good Shape, good guitar
We hiked in to the hut as a day hike. There were 12 VOC people who stayed overnight who we met on the way out. There is a working steel string guitar in the hut, so I tested it with some Cat Stevens songs and Neil Young.
2015.02.01 Robin Tivy - Hut in good shape
The hut was in good shape in my brief visit to it. See Trip Report
2011.03.14 Evan Morris - Stove being repaired
The 2-burner Coleman stove is currently removed for repairs, so make sure you bring your own.
2010.11.28 Scott Nelson - Everything (mostly) in working order
New windows were installed over the summer on the south (windward) wall. They appear to be working very well (no snow inside) and the cabin is in generally good shape. The west facing windows were frozen shut for the duration of our stay, and the door of the wood stove was very difficult to latch shut. The lantern proved to be difficult to light, but burned all night once we got it going.
2010.11.23 Steve Grant - null
I'm always amazed at what a excellent construction this cabin is. Apparently built by beings of higher intelligence and very appropriate for the site.
2010.11.22 Scott Webster - Not VOC
Note that the group who registered for last weekend was not with the VOC (they said they were with UBC...)
2010.11.21 Steve Grant - Use Coordination
The same party as a year ago visited Brew Hut again on a rather cold and windy day. The use coordination system said there would be VOC use of the hut this weekend. According to the log book there had been 20 people the previous weekend. We met 8 people on snowshoes on their way out and who were the only people to stay overnight. They said they were not VOC, and had entered nothing in the log book. So it appears the use coordination system doesn't always work because people go there without "signing up", and some who sign up don't go and don't remove their entry. The approach roads have been changed due to preparations for resumed logging. The waterbars are filled in. Rather than go around the last switchback before the trailhead, continue straight ahead on what used to be an overgrown road. The trail leaves the road just beyond a switchback to the left. The flagging for this logging extends all the way to the first rockslide.
2009.12.13 Robin Tivy - Daytrip into Hut
We did a daytrip to the hut. The trail was icy but fresh snow falling. The hut was in good shape. We marvelled at all the little things that were done right, as a result of years of experience: white walls for bright interior, light reflectors, sloped doorframe for easy sweep out, adjustable door winddraft...
2007.11.25 Scott Nelson - Window latch broken
One of the window latches is broken. Please do not open this window during your stay. It will likely freeze shut over the winter.
2006.09.10 Scott Nelson - Woodshed complete
Work party flew out garbage from Brew 3 construction and Brew 2 deconstruction and built a woodshed, which closely resembles the original brew hut in an erie kind of way.
2006.07.23 Scott Nelson - Outhouse complete
The new outhouse was installed over the weekend. Also, all of the surplus construction material was hauled down to the old hut site where and it will be airlifted out in a few weeks.
2006.05.14 Klaus Haring - Free of snow
The hut is well located, there is some bare ground and only 1/2m high drifts around it. There is no outhouse, in the hut a note suggests to use the toilet at the old hut site, but nothing is visible there.
2006.01.08 Scott Nelson - West side windows frozen closed
The last party in to the hut left a window open, resulting in 3 inches of snow blowing into the hut at the south end, which made for a wet evening. Both of the west facing windows are now frozen closed from accumulated rime ice. Thankfully, the north facing windows are not affected by the rime, and neither is the chimney.
2005.11.28 Robin Tivy - Visit cabin, calculate positions
We skied into the hut as a day trip. About 4 inches of great powder high up. Initially someone had put a NAD 27 location in for the hut location into the Bivouac database. All data in Bivouac should be primarily WGS84. So I translated it back to WGS84.
2005.10.30 Scott Nelson - Ready for winter
New porch & stairs built and the interior has now been finished as well.
2005.09.25 Scott Nelson - Old Brew Hut Dismantled
The old brew hut has been torn down and partially stacked for firewood. Please use the new hut located 400m to the west of the old site. I updated the coordinates of this database record to reflect the location of the new Hut.
2005.08.01 Scott Nelson - New Brew Hut is now habitable
Over the long weekend, the major work on the new Brew Hut was completed. The new hut is now habitable for anyone wanting to stay there. Remaining work to be done includes a final coat of paint on the walls, a bit more painting on the windows, stairs, coat racks, place to hang food and cleanup of leftover construction materials.
2005.07.11 Scott Nelson - New Brew Hut Construction Started
Construction has started on the replacement Brew Hut. The new hut is located uphill from the old one, about 300m to the west. The new location will make the hut easier to find and less subject to being completely buried in snow in the winter.
Placename Photos
2 Mount Fee - Morning Light Brett Logan
2 Brew Hut Muso
---