Bivouac.com Feature Page Home Help Index Login
Wedgemount Lake Hut #106 (Wedgemount Hut)
Type: Building_Hut Elevation: 1875 m (6152 ft)
Location: 50.16270,-122.81602 50:09:46, -122:48:58 10U 513141 5556737
(18 km E of Rainbow Lake). (12 km NE of Whistler). (4 km NW of Wedge Mountain).
Ranges: North America Ranges / Pacific Cordillera Range / Coast Mountains / Pacific Ranges / Garibaldi Ranges


Maintained alpine hut used for ascents of Wedge, Weart, etc. This hut is located at 1913m (6277ft) on a knoll at the northwest corner of Wedgemount Lake. About 200' above the lake. There is space to sleep 6 and an outhouse. The hut has some furniture inside, but little in the way useful items like lanterns, pots, etc. The location is windswept and usually not affected by accumulating snow.
Access to the hut is usually via the Wedgemount Lake Trail, a 2-4 hour grunt up from the Whistler valley.
Seven or eight wooden tentpads were installed by BC Parks in late 2006, along with a new pit toilet and a new hut at the main campsite. A smaller campsite (several gravel tent sites, 1 toilet) is located 400m further east at the end of a stone pathway.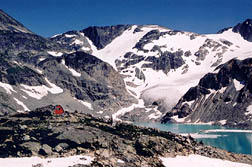 Wedgemount Lake Hut
Trip Reports within 1 km
37 2016.05.07 Wedge Mountain - Northeast Arete Laura Jones
51 2015.02.28 Wedge Mountain - climb North Arete, ski South Face Adam Osuchowski
50 2012.10.25 Cook Mtn & Wedgemount Lake Dominique Goineau
20 2011.08.01 Weart - Southeast Ridge (with deviation from Gunn route) Tim Gage
39 2004.07.24 Wedgemount Lake and Mount Cook in July Benoit Landry
57 2004.04.9 Ski Touring near Mount Currie Mike Peel
62 2003.09.12 Soaked to the Bone on Mount James Turner Fred Touche
20 2002.09.03 Mount Cook - West Route Scott Nelson
34 2001.07.21 Weart Circumnavigated By Owls Drew Brayshaw
63 2001.05.20 The North Arete of Wedge in Superb Spring Conditions Scott Nelson
29 2000.10.14 Weart - Southeast Ridge Todd Ponzini
42 1999.09.13 Search for the elusive Class 2 Route on James Turner Klaus Haring
39 1980.07.05 Historic Ascent of Wedge Mountain North Arete Klaus Haring
92 1972.07.20 The Great Garibaldi Park Traverse - Part 1 Klaus Haring
25 1971.08.11 1971 Wedge from Hut Cliff Jennings
29 1971.08.10 1971 traverse of Weart Mountain Cliff Jennings
Bulletins
2014.12.19 Steve Grant - Door problems
As Serguei said, the door jams shut so it can seem like you're locked out when you try to open it. This can be unsettling when you arrive all wet and wish to get out of the elements. Maybe use the shovel as a pry if needed. Don't bother turning the knob since there is no latch.
2014.12.17 Serguei Okountsev - Door needs to be fixed soon Photos
Spent two nice nights there. Those leaving need to apply force to shut it, consequently next party will have trouble opening it. In winter the ice adds more difficulty.
2007.07.28 Andrew Wong - Updated facilities
The extensive construction project of October, 2006 created seven or eight new tent sites (some are raised wooden platforms, others are packed crushed gravel), improved trail drainage, trail remediation, a new outhouse, a trail and park sign, a helicopter pad, and a new (small) hut. Finally, but maybe most annoyingly (?), there is a very strong digital cell signal at the campsite--no need to haul up the satellite phone here anymore!
2006.09.11 Andrew Wong - Construction Sept 11-mid Oct 2006
From BC Parks website (http://www.env.gov.bc.ca/bcparks/explore/parkpgs/garibald.html): "Campground and trail construction will be ongoing at Wedgemount Lake from Monday, September 11 until mid-October, 2006. Intrusion will be minimal but visitors should expect occasional use of generators and helicopters. Please avoid camping in the construction area and respect the crew's work space (especially when involving helicopters). Stay clear of helicopter loading / unloading area. There will still be ample tent spaces available and the trail up to the hut will not be affected."
Placename Photos
6 Wedgemount Lake Hut Gareth Evans
4 Wedgemount Glacier Changes from Wedgemount Lake Hut (2010) Andrew Wong
3 Cliffs - Southwest shore of Wedgemount Lake Gareth Evans
3 Wedgemount Lake Dan Carey
---